About LifeSense
Welcome to Your Authentic Life! It's time to Empower Yourself to Be YOU.
LifeSense is an online lifestyle magazine (written by a Life Strategist) that shares information, insights and new discoveries that form the cornerstone to living an authentic life from the heart.

LifeSense is owned and operated by Lia Kwan-Yin, the Chief Writer/Editor and Life Strategist, also known as a Life Coach / Holistic Consultant.

This LifeSense magazine covers a range of holistic topics for overall wellness of body, mind and spirit.

Bridging the gap between the emotional body and physical body, and resolving the mind versus body conflict.

Using recreational therapies such as cooking, painting, writing, flower-arranging and playing/listening music, as well as the healing arts of meditation, living a zen lifestyle, yoga, tai-chi, chi-gong as a way of letting stagnant energies move through the body.

Articles also include natural health remedies, natural alternatives to synthetic chemicals, Ayurvedic medicine

You can expect to find the Five + 1 = Six Sense Series of life-inspiring stories that include subtle energy processing, past-life regression, karma/dharma, memory processing, and releasing any blocked energy from past trauma, hurt and/or physical pain through the use of colour, scent, taste, music, travel, arts and cultural experiences to nurture, awaken and stimulate the soul.
Meet Lia Kwan-Yin, the Life Strategist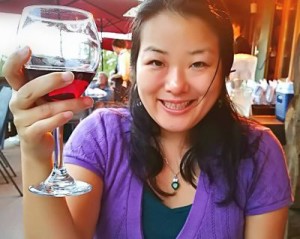 Lia Kwan Yin is Pink Tiger Lily, which is her Earth Angel alias but you can call her Lia as she has gone through her own spiritual awakening experiences and is now on her enlightenment quest as she evolves to reach her own full creative potential and helps others to find their true authentic self, and to realize an Earth life experience of infinite possibilities and a freedom with no limitations.
Lia has helped both men and women to attain their dreams, and to live a fruitful and happy life that is authentic and driven from the heart. Lia has helped a handful of clients find their underlying purpose, establish their "WHY" in terms of their personal and professional fulfillment at various stages of their lives.
It's never too early or too late to realize your true greatness, to tap into your inner spirit and to unleash your full creative potential in this lifetime. From as young as 12 years old, to a young adult of 23 years old, to handfuls of thirty-somethings and those in their golden years LifeSense by Liapros has guided others to live their ultimate purpose in life, with ease, flow, passion and grace.
Lia Kwan-Yin's personal awakening experience can be summed up into a couple of paragraphs:
Awaken your Inner Child and Tap into your Authentic Creative Self!
Once you become awakened by a sudden life changing event, a tragic situation, near death experience or a wake up call, it is very much like a light just went on and for once you have a glimpse into the clarity of what your life is truly about. For that split moment you can see your past, present and future all intertwined and it's as if you know that things will never be the same again. In fact they would be significantly different but all for the better as you actually realize that your life has an underlying purpose and that you want to live it fully and with meaning! This little seed of light that just got planted is awaiting that defining moment when your conscious and sub-conscious mind both come to the same conclusion that change is needed.

If you think that all these world events, spiritual awakening activity and hidden truth revelations do not concern you, well think again – you are in for a rude awakening. Please just consider the truth about humanity, about your life, your purpose. I am not here to convince you, merely to guide you to the righteous path of truth – that is the light and love that fuels us all as sentient beings.

Hope never left us, can you find it again?

Faith, remember this is what you felt when you were an innocent child of 5

Love, is why you are here

Charity and Compassion, without it we cannot grow"
Pink Tiger Lily channels her Higher Self by connecting to the divine source of light, love and truth through her higher consciousness, evoking the spirit guides and guardian angels that include Quan Yin/Kwan Yin as needed in her Life Clarity and Life Strategy Sessions.
"My search for the missing answer has been found – and the radiant light of God's love is shining through me that I feel a Freedom with No Limitation. I have overcome my greatest fears, vulnerabilities and pain in my past and past lives, and have finally learned what everything that has taken place in my life up until this point means and that they have led me to this path of enlightenment. I am inclined to share my divine wisdom and knowledge with the world and to care and help for others which has been with me and in me ever since I was child of 5 years old."

"Creativity and innovation cannot be planned or reproduced.

It is a flow of moments in time when the creative forces and energy come together for that particular instant – poetry, lyrics, a music collaboration of individuals, a vision that is realized, defined and mapped, be it a sketch, schematic, wireframe, storyboard or body of work ready for publishing. For me it occurs primarily at night time. Not sure perhaps that's when my spiritual awareness is at its peak, who knows – I live, I breathe and sense creative energy around me, I give off, I receive something that is inspirational. I believe that creative talent should not be wasted, go unnoticed or perish into thin air."
Allow yourself to simply be in the moment. To sit in silence and literally check in with your body, mind and heart feelings.
LifeSense | authentic living from the heart is your new best friend!
Your one-stop resource for a more authentic life, enabling you to reach your full creative potential.
Use this LifeSense Magazine for finding lifestyle tips, health and wellness articles, innovative trends and natural health discoveries.
Tap into the creative gifts and multi-faceted talents of Pink Tiger Lily so that you can be on your way to Healing your Life and Reaching your Creative Potential.
It's never too late to make the change. Be the change you wish to see in your life, in your world. Change starts from within.