Serenity of Santorini
Santorini is currently the most popular Greek island destination and is one of the most magical islands of Greece that cannot be missed.

Santorini is the remnants of an enormous volcanic eruption that occurred over 3600 years ago which have formed a cluster of volcanic islands in a circular crescent shape which surrounds a beautiful scenic water-filled caldera.
Santorini offers the following delights to be explored and experienced at least once in your lifetime…
 Classic architecture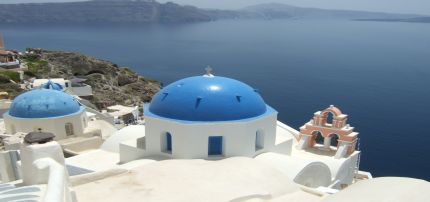 Santorini is known for its classic white-washed blue-top churches commonly featured in picture perfect postcards, photography, movies and paintings.
The picture perfect blue-top churches, white faced villas that hang like grapevines on the cliff edges, the church bells, blue doors that open up to the blue sea offers a unique and dramatic beauty that can only be experienced in person.
Sweet and mystical serenity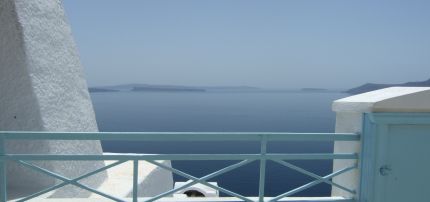 Santorini offers breathtaking and cliff-hanging views of the Southern Aegean Sea which feel overwhelmingly picture perfect, surreal and can only be described as "sweet serenity".
Oia offers the infamous beautiful sunset, one of the most spectacular sunsets in the world.
The mystical serenity about Santorini is that it is one of the sites for the lost ancient civilizations from several thousand years ago.  This civilization had advanced their technology, architecture and society to something close to if not better than modern day society.
Shades of blue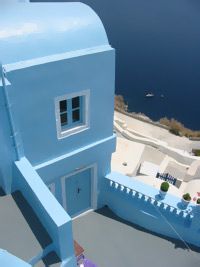 The abundance and contrast of different blue shades can be seen all over Santorini. It makes for a fantastic photography of the classic architecture against the natural landscape.
If its not the blue-top churches, or the light blue fence that surrounds the white-washed houses, or the all-blue villas that overlook the deep blue Aegean Sea with the clear blue sky backdrop – Santorini likes blue.
Sail into the caldera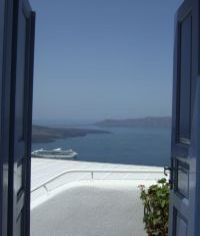 Santorini is more than just a popular tourist destination. It is a surreal experience that cannot be described but only felt by being first hand in Santorini.
Arrive by boat, ferry or cruise ship for the best way to enter the caldera. Take a donkey, cable car or walk up the zig-zag snake track all the way to the top – the journey is truly rewarding that you will not regret!